Congratulations on buying your new home
Getting the keys to your newly built home is an amazing experience, let us make it even better for you.
What you can't see with the naked eye...
Our thermal imaging exposes poorly installed windows, missing insulation and other defects that stop your home from meeting the environmental standards you may think it has. As well as costing you £££ in wasted energy.
Delivered direct to your phone...
Have your report delevered direct to your mobile device.
On average we find over 150+ faults...
Have you purchased a new build property?
FP Surveying offers the UK's most comprehensive professional snagging report. We use our vast experience and a wide range of high tech equipment which includes a thermal imaging camera to ensure your new home is to the quality you expected and were promised.
Our goal is to achieve higher level snagging reports on issues that are usually out of sight to ensure our inspection report covers every finer detail. Hiring an independent snagging company will provide a range of services that cover a full inspection of internal and external, thermal imaging scan, comprehensive report and lifetime support and advice.
Our team of professional snagging inspectors find an average of 150+ defects in new build homes.
All this delivered direct to your mobile phone in a format that you can share with your developer and get your new home finished to your standard.
If you are looking for a snagging survey, we would be delighted to help. Request a quote today.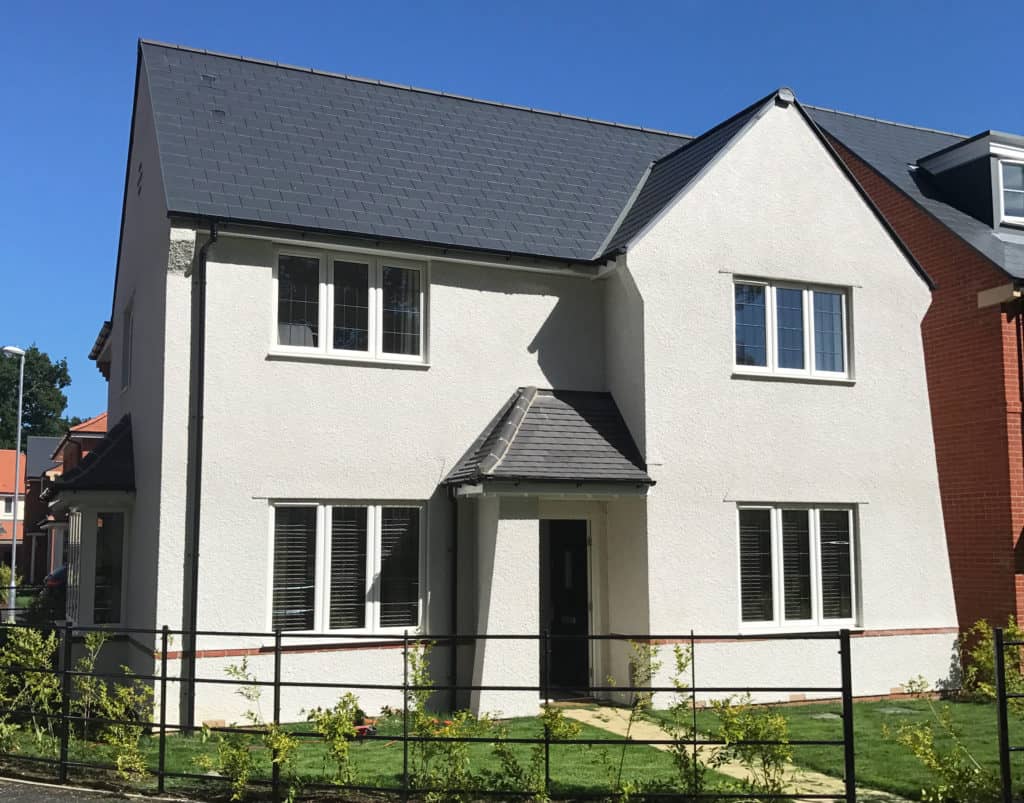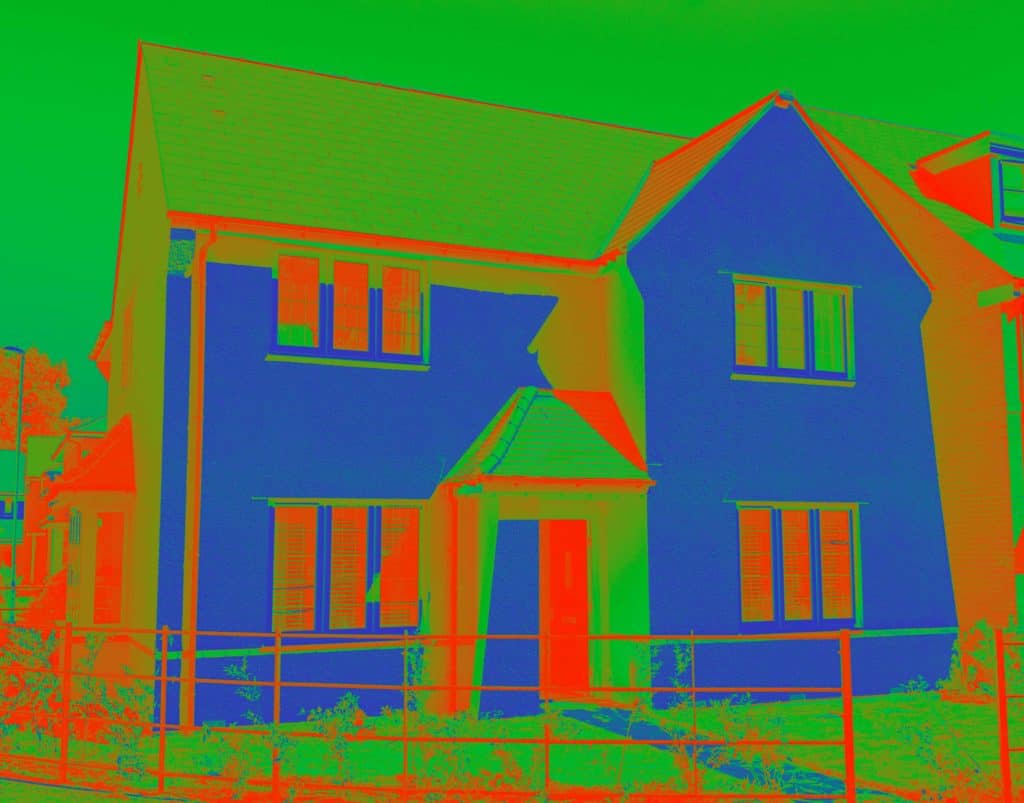 Move the slider left and right to view external through our thermal camera.
Don't rely on your eye...
There is nothing more exciting that collecting the keys to your new home. However, no sooner than your first sniff of a freshly painted house (amazing), your eye will wander to all those things that aren't quite right. On average our inspectors find 150+ so don't be suprised.
Your developer is going to be asking you to sign to say you are happy and this is where you need our help.
Also, even if you decide to takle the job yourself, it's what you can't see that can be more worrying. Missing insulation behind walls or the loft or ill fitting doors and windows can make your new energy efficent home into something colder and more expensive to run that it should be.
Warning
From the main image to the left would you spot the areas shown in red that are bleeding energy and need to be addressed by the builder?
The benefits of having a snagging report...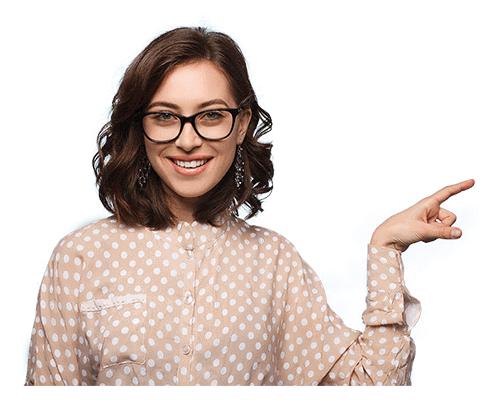 Hese are just a few of the benefits of having a snagging report.
What people ask our specialists
We love helping people and that's why there is no question too big or too small. Of course, your mortgage provider or financial adviser will be helping you with the details surrounding remortgaging.

Whilst our main job is to identify faults, we go further than that by providing you with a report that the develper has access to which speeds up the process of repair, we can even revisit the property to make sure the work has been completed to the highest of standard.

If you have any questions, please email snagging@fpsurveying.co.uk or you can contact us at anytime for more information
A snagging survey from our perspective
When you bought your home, you had a valuation carried out by the mortgage lender to ensure that the property was worth what the developer was selling it for. The mortgage lender wanted to be 100% sure that the value was correct.
Make sure your Snagging survey is accurate by appointing fpsurveying to come out and see you. It could be a decision that saves you hundreds of pounds.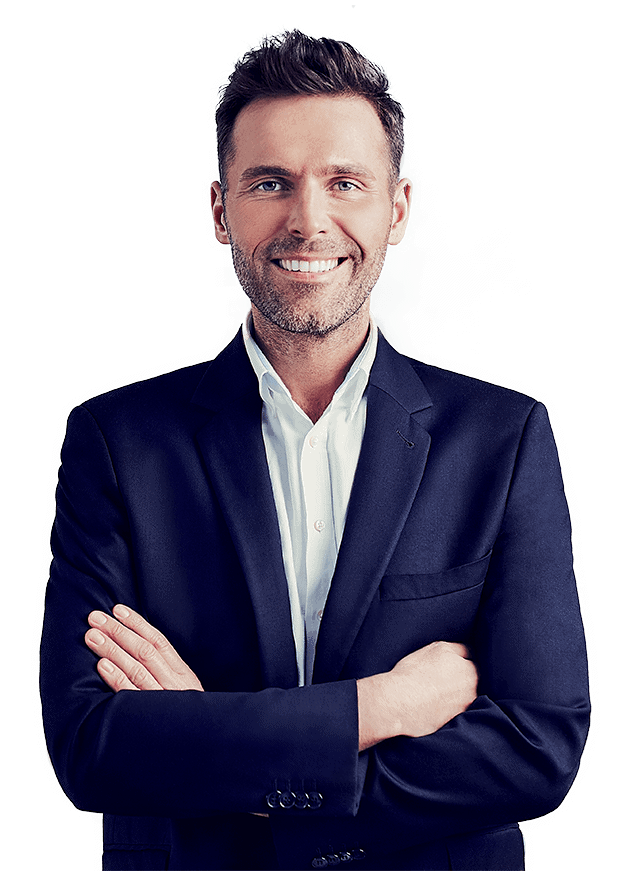 basic
Perfect to get you started
with thermal
Perfect to get you started
Complete
Perfect to get you started
On first inspection of this downstairs fire alarm you can see some paint work that needs to be tidied. What is impossible to see is the lack of insulation which is higlighted in blue. The absence of this insulation will have an impact of the fuel costs of this home and the sound insulation between floors. In this case, we were able to provide the developer with evidence so that they could put this fault right.
Building a home is no easy task and from time to time little things get missed. However, these little things soon add up and before you know it you have a task ahead of you where you have to feed these faults back to your developer in order to get them fixed. This is where we step in by providing you with a comprehensive report that you can forward to the developer.
Keep organised with your property log book...
One thing you will notice is that you will be flooded with documentation which include valuable warrantys and guarantees amongst other reference items. We have designed a document store were you simply upload to your app.
Ask about our Docustore and say goodbye to paper!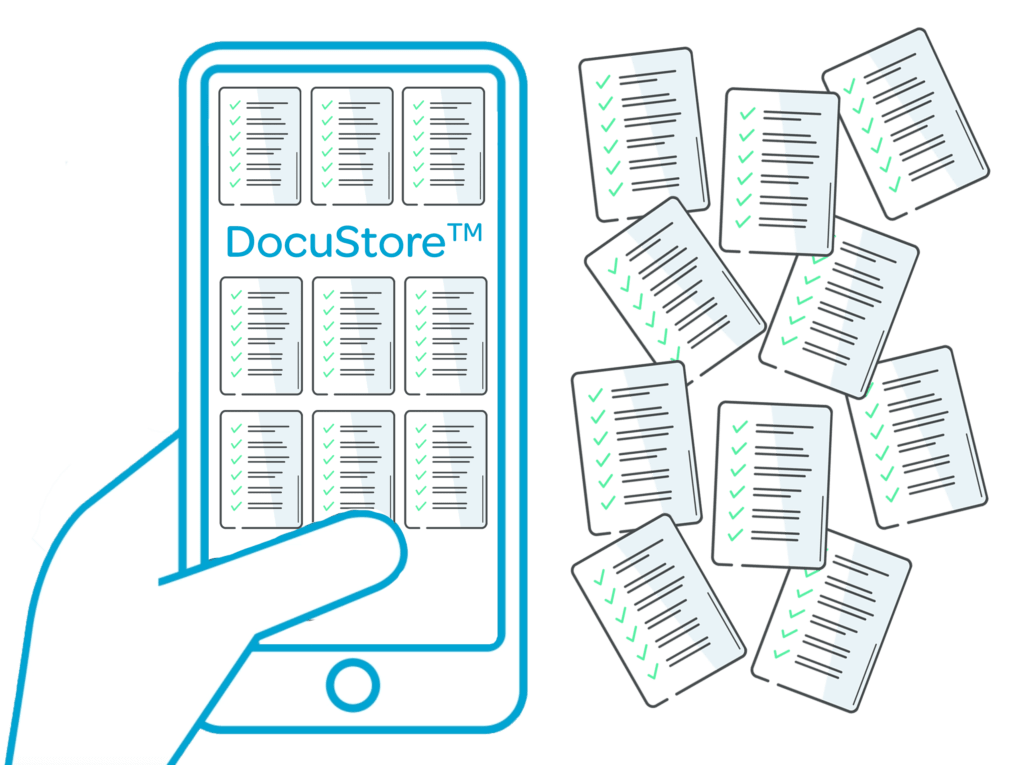 A new build home could save you £629 per year in heating...
According to Energy Performance Certificate data, more than 8 out of 10 new builds have the top A or B rating for energy efficiency compared to just 2.2% of existing properties. Government data shows that as a result, new homes are using on average 103kWh/m2 worth of energy compared to an average of 294kWh/M2 for existing homes.
This means that new build home owners will spend on average £443.30 a year (£276 heating / £108 hot water / £60 lighting), well under half of the £1,072 the owner of an older home can expect to spend – saving, on average, £52 a month, or £629 a year.  
Make sure your home is energy efficient or you could miss out!
https://www.hbf.co.uk/news/new-build-homes-save-owners-629-a-year-on-energy-bills/